Introducing the...

---
---
---
---
---
---
---
---
---
Amazing Private Facebook Group Called
ASM Masters!
This is a secret Facebook group that we'll give you an invitation to manually after we get validation from ASM that you bought from this page.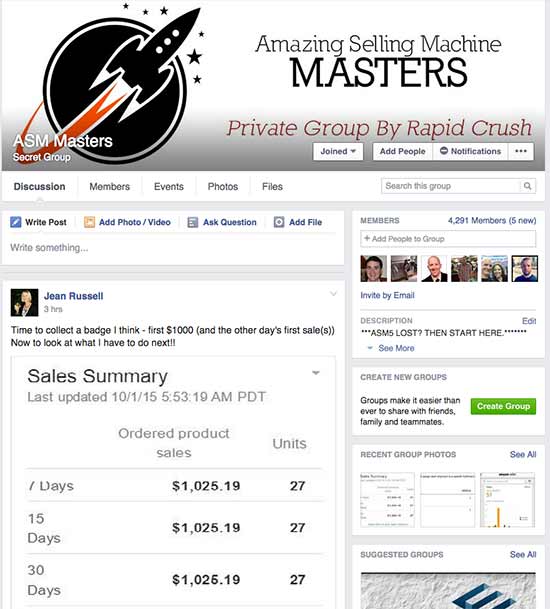 This group was first created on Tuesday, March 12, 2013 at 3:35pm and every month since it's gotten more and more valuable.
For example, members have uploaded files, documents and other things that they find helpful that they'd like to share with other ASM Masters. For example look: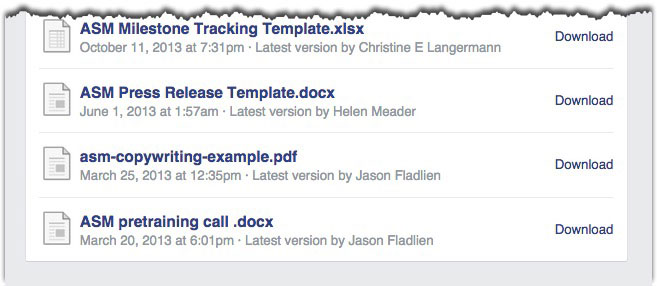 There are over 150 files (documents, reference guides, spreadsheets and other helpful things) to enhance your selling on Amazon. You will not finding anything like it anywhere.
It's amazing what happens when you put 5000+ ASM Masters together who all work and help each other and all have access to bonuses created specifically just for them. Join us by signing up on this page today!
---
Making ASM Better?
We did not make ASM... but we made ASM better! We have been helping the most successful Amazon sellers for over 4 years now, and our resources continue to expand, month after month.
With the core ASM curriculum PLUS our bonus package, you will have everything you need to be successful. Join our group of successful Amazon sellers when you invest in ASM through one of our partners!
PLUS! Additional Bonuses
Listen, we've been doing this for a while and our specialty is not creating and launching Amazon trainings -- for that, we rely on ASM. We then spend our time creating additional value to our audience who follows the ASM model right along with us.
Additional bonuses you'll find waiting for you when you sign up with us include...
REVERSE ENGINEERING AMAZON RANKINGS - in this training we reveal 11 specific ways that have produced Amazon "page one" profits. Meaning when people search on Amazon, there you are in front of thousands of them daily!
ZERO TO 100K PER MONTH WITH ADWORDS - the system was originally created by one of our customers, James Watson, and with his permission, Jason interviewed him, extracted all his knowledge about the system, and then described the entire system to you so you can implement it yourself.
PROFIT CALCULATOR SPREADSHEET - this handy Profit Calculator spreadsheet that will help you understand your true profit per unit.
And much more... honestly there are so many other bonuses we cannot even list them all on this page, because it would take too long!
Note: You must either be an ASM 1-9 customer in good standing or join ASMx through one of our partners in order to be eligible for our bonuses. For questions about bonus eligibility, send an email to support@rapidcrush.com.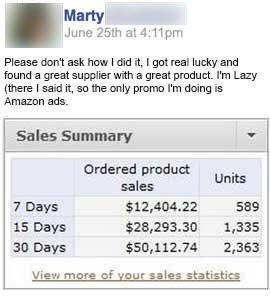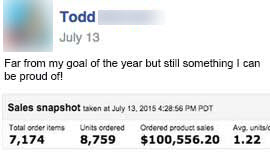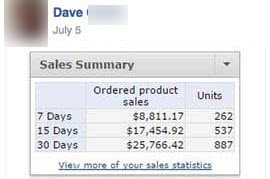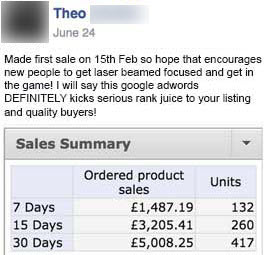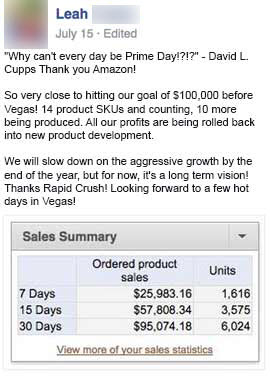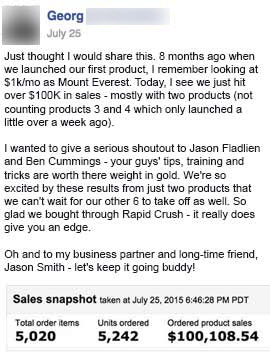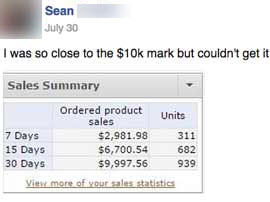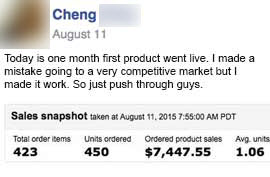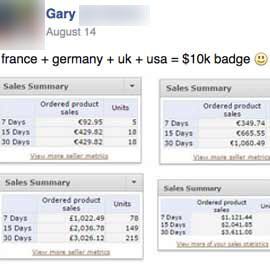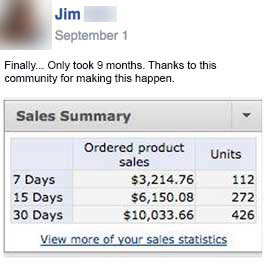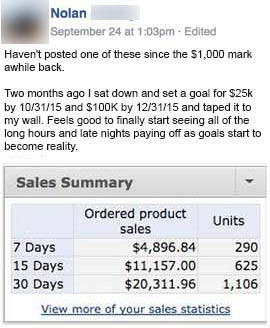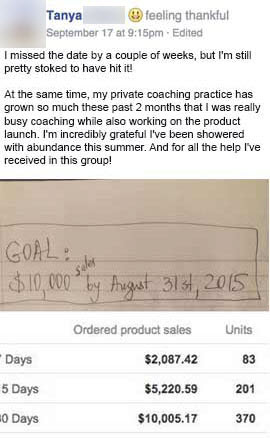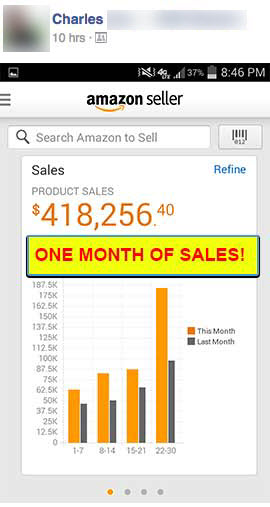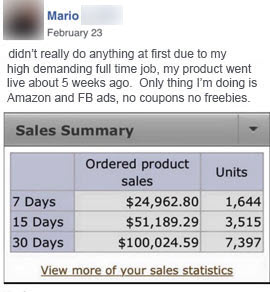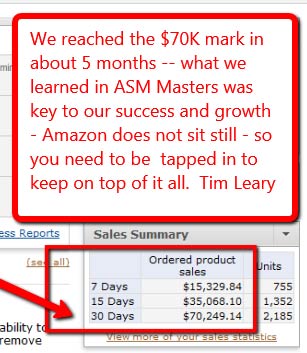 With one product only
7 weeks of pure selling with one product only.
This Business becomes much easier when you apply the 80/20 rule.
To Your Success, See You At The Top!

Leonard
Only 10 days from $5K to $10K
Weird - just sold 45 of my product in the last hour, possibly to someone for some nefarious reason. The good news is that it's put me over the $10K mark.
It took 6 weeks to get from $2K to $5K, and only 10 days from $5K to $10K.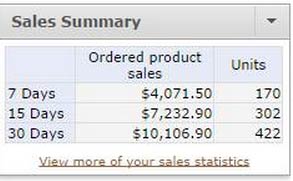 Phil
Buy a #1 Listing
Jason Fladlien's "Buy a #1 Listing" Strategy works! Getting my $10K Badge! Keep going fellow ASM Masters!
The knowledge, support, and tools are all here!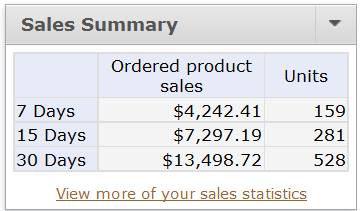 Kristie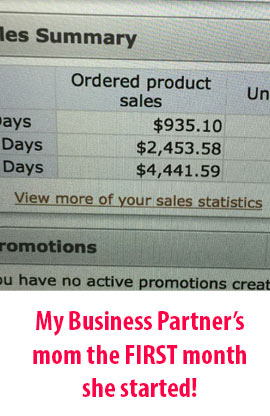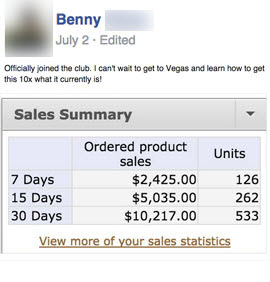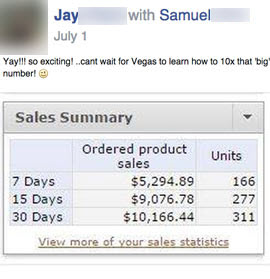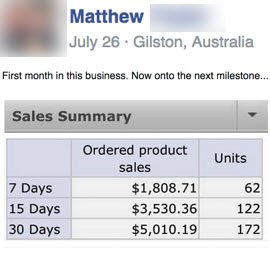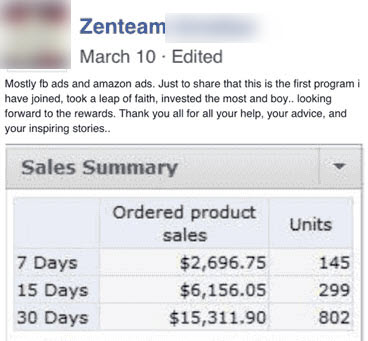 "Only had $250 to start with..."
I'm making between 10-12K per month... I only had $250 to start with, so I'm loving this business model... After graduating from school, I couldn't find a job. And that's how I got into looking for ways to make money.
I can't even remember how I found out. (I started learning about IM through the Warrior Forum).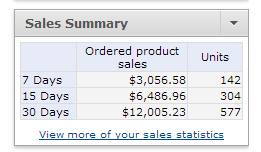 Delia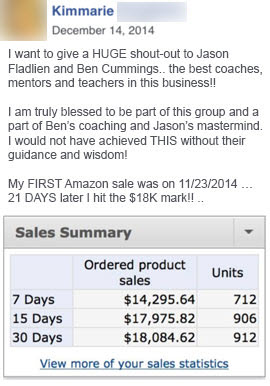 "I am smiling, I am so, so, so happy"
I was painfully aching to re-create my life and a sustainable livelihood for my children and myself to enable our moving forward (ending in poverty was DEFINITELY NOT an option!!!)
Jason, when you read this I might have passed the 10K ... (screen capture below)
I am smiling, I am so, so, so happy & grateful and I am exuberantly filled with appreciation.
THANK YOU * THANK YOU * THANK YOU, Jason & Wil & RCI Team and to all resources, bonuses, gifts made available to me...
LOVE, LIGHT, PEACE & HARMONY to ALL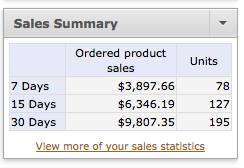 Christine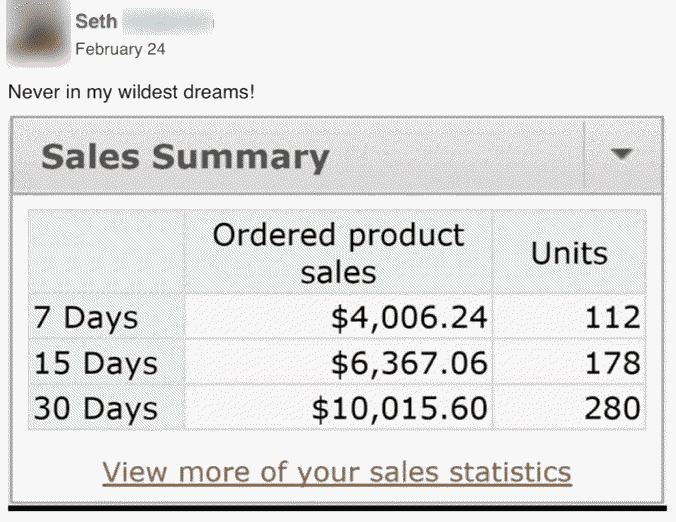 "Our fast success has been because of Jason & Wilson"
I can honestly say that our fast success has been because of Jason & Wilson's Rapid Crush bonuses including the amazing and supportive private Facebook group, additional private one-on-one coaching for product selection and Listing optimization, and special secret software/blueprint to rank my product quickly and get organic traffic and sales from Amazon.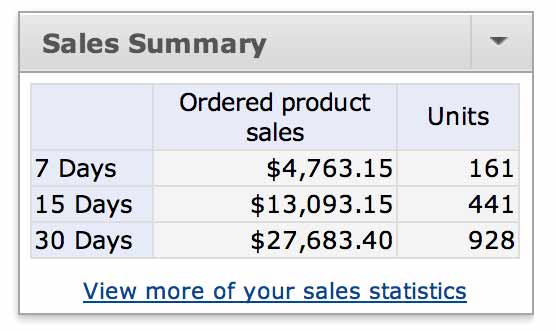 Tess
"Grateful for the help"
The road from 5k to 10k was shorter than I expected - a pleasant surprise!
Grateful for the help & support provided by everyone in this wonderful group.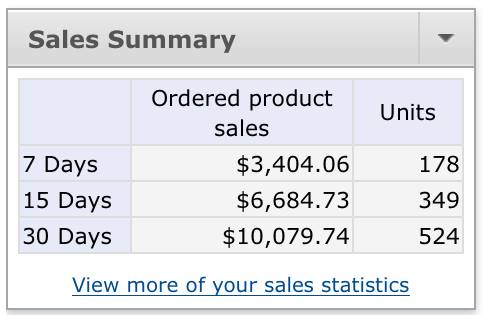 Sandeep
"An hour or two a day... AT THE MOST"
I'm active at my kids' school and will be running for State Rep in my district this fall, so I love that things are going slow and steady without much effort on my part.
I'm probably only putting an hour or two a day into this right now- AT THE MOST.
I feel really fortunate to be a part of this group. You guys have gone above and beyond, and I attribute the bulk of my success to having come in under you guys..
Oh and here's the other interesting bit of info...when I was cranking out product and I hit 25k....my product made it to the bottom of page 1 for 1 afternoon but has kind of just permanently stayed at number 19-22 on page 2..... so I was selling a TON- on PAGE 2!!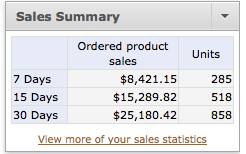 Jennifer
"Follow the Guide to a Tee"
I joined thru Jason and Wilson, we just received our 10K in a month! Thank you to all the Champions here for all your support.
Just follow the Training to a T, and uses the additional tools that Jason and Wilson gives us. My Family truly appreciates this Great Group of Champions!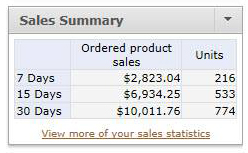 Cliff