(When You Sign Up Below)
---
---
---
---
---
---
---
---
---
Bonus #9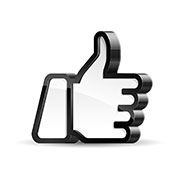 Having run over 880 campaigns on Amazon Sponsored Ads, Jason Fladlien has seen some stuff. Along the way he has figured out an approach to Amazon Sponsored Ads that can be described in one word: profitable.
In this step by step video training, Jason presents to you the most up to date and powerful way to use Amazon Sponsored Ads to make money and catapult your ranking in Amazon's search results.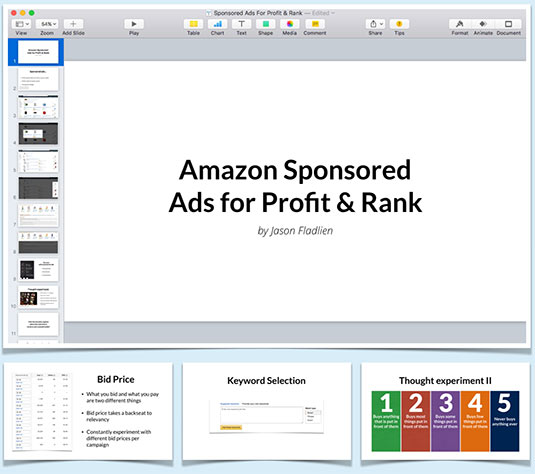 Note: This bonus will be made available to you when Module 3 is released and will be delivered via our OPP Masters members area, which you can access from the "bonuses" section of the official Operation Physical Products member site.
---
Bonus #10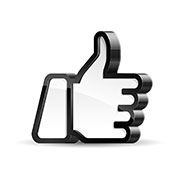 What we teach you to do on Amazon... actually has an exploit completely off of Amazon.
Even better - it can be done in a way to leverage what you'll discover in the OPP Masters community... to grow your Amazon business without even adding any additional inventory.
This is a method first discovered by an OPP Master himself who we are now paying to license this information from to be able to share it with you. This guy is someone who is so clever with this stuff that Amazon itself refers customers to him!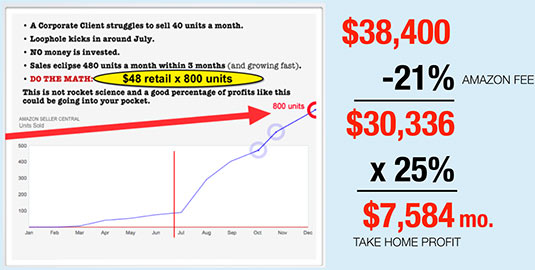 Note: This bonus will be made available to you when Module 7 is released and will be delivered via our OPP Masters members area, which you can access from the "bonuses" section of the official Operation Physical Products member site..
---
Amazing Private Facebook Group Called
OPP Masters!
This is a secret Facebook group that you will be given instructions on how to join when you purchase OPP from this page.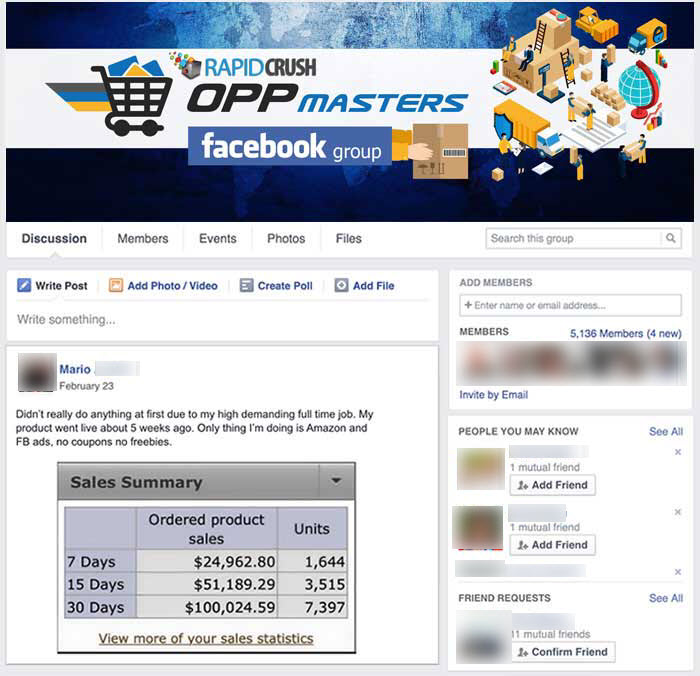 This group was first created on Tuesday, March 12, 2013 at 3:35pm and every month since it's gotten more and more valuable.
For example, members have uploaded files, documents and other things that they find helpful that they'd like to share with other OPP Masters. For example look: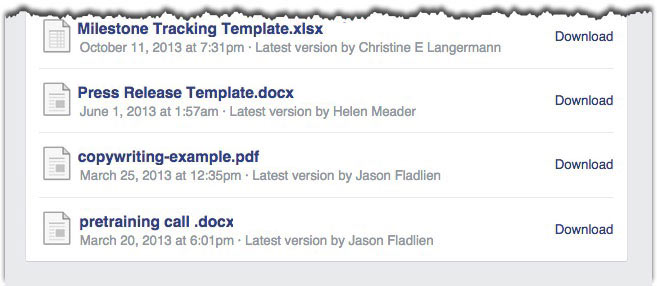 There are over 150 files (documents, reference guides, spreadsheets and other helpful things) to enhance your selling on Amazon. You will not find anything like it anywhere.
It's amazing what happens when you put 5,150+ people together who all work and help each other be successful on Amazon. Join us by signing up on this page today!
---
Your Commitment & Our Guarantee To You
We only want to work with serious people who want to build a real business. If that's not you, then you should not join this program.
If you are committed to being successful, then we are committed to YOUR success, and as long as you take action we're confident that you'll be successful with Operation Physical Products (OPP).
This is why we absolutely guarantee your investment in this life-changing course for 60 days. If you are not completely satisfied with your results, we will refund 100% of your investment today, as long as you do the following:
Go through the OPP training modules & take action on what you learn 2
Participate in our OPP Masters Facebook Group 3
Use the additional resources we provide to you 4
It basically boils down to this... you commit to us that you will follow the program and we commit to you that you will succeed. If for some reason you don't, then simply request your money back. 5
IMPORTANT: This program does not come with an unconditional money back guarantee. When you join this program, you agree that the only way to request and be granted a refund is to demonstrate you have met the criteria of the guarantee explained above. See the footnotes section at the bottom of this page for complete details on how to qualify and request a refund.
Are you ready to build a real business that can change your life, real assets that be passed on to your children or grandchildren? If you are serious about this, then...
Sign up now!
One installment, $3499.95
Instant access to the Welcome Module and Module 1 as well as full access to the rest of the modules and bonuses when they are released to you!
Click on the button below to secure your access using CREDIT CARD or Paypal!

WARNING: This Offer Expires In

1 When you invest in the Operation Physical Products course, you will have lifetime access to the core course curriculum and any core curriculum updates. Lifetime access is defined as the period of time during which the content is commercially viable. In this case, it means a minimum of 12-months from the date of purchase and up to several years after your purchase.
2 Each week from the date of your purchase, a new module will be made available to you in the Operation Physical Products members area (10 total modules, including the module 1, which is available immediately following your purchase). In order to qualify for the money back guarantee, you must accomplish all measurable action steps in the each of the first 6 modules within 60 days of your purchase today.
3 As part of our bonus package you will have access to our private Facebook group (OPP Masters), where we will share knowledge, answer questions, and help you in any way we can. You need to participate in the group by sharing your current progress at least 4 days per week (on different calendar days). For purposes of this requirement, the "week" will start 3 days after you purchase the course. You must follow the instructions in the OPP Masters members area to get access to our Secret group. Delays in you joining the group will not excuse you from this requirement. For the sake of clarity, questions or comments in the group do not qualify as a progress report. A progress report must clearly indicate what you have accomplished so far in the training since your last progress report.
4As part of your bonus package for purchasing Operation Physical Products today, you will also have access to the bonuses described on this page. The bonuses have been selected to help you be even more successful. Make sure you access the bonus section when you get in the members area and make use of the bonuses as you go through the training modules and build your business. If you have questions about any of the bonuses make sure to ask in the OPP Masters Facebook group.
5 In order to request your money back, you must contact us between 61 and 75 days after your purchase today. Please send an email to support@rapidcrush.com with your request. We will then schedule a quick web meeting with you to jointly verify you have accomplished all of the action steps in modules 1 through 6 and progress report posting requirements as described above. You agree that you must satisfy all of the above requirements, without any exception, in order to qualify for the money back guarantee. When you submit a request to support@rapidcrush.com you will receive an automatic confirmation that your request was received (within 5 minutes or less). If you do not receive this confirmation, please check your SPAM folder and be sure to whitelist our email address, otherwise, please send another email, ensuring you are sending the email to the correct address. You may also submit your request in writing, via a trackable delivery method (such as UPS or FEDEX) to the following address:

Rapid Crush, Inc
27240 Turnberry Ln, Ste 200
Valencia, CA 91355

Note: By purchasing the Operation Physical Products course, you agree that there are no exceptions to these requirements for any reason whatsoever. In order to qualify for a refund, you must meet all of the criteria and timelines detailed above. Whether you email us or send us your request in writing, your request for a refund must be received between 61 and 75 days after your purchase.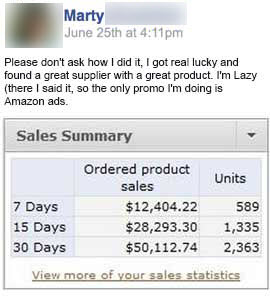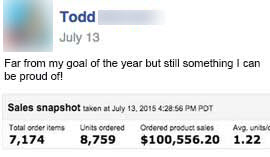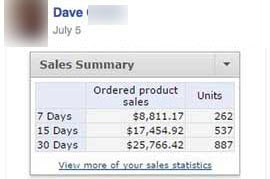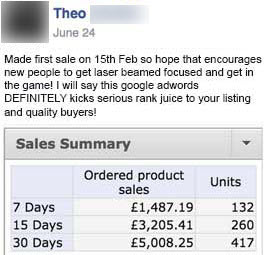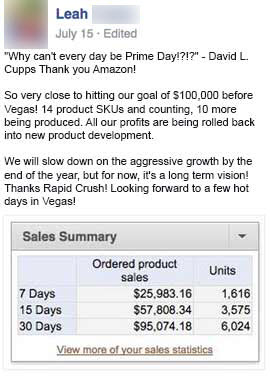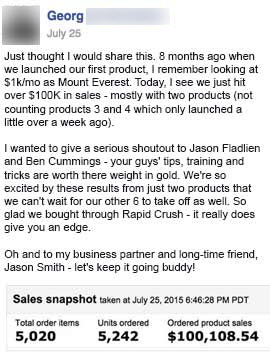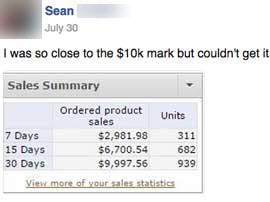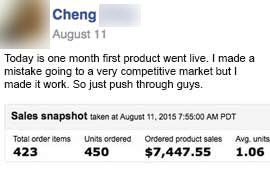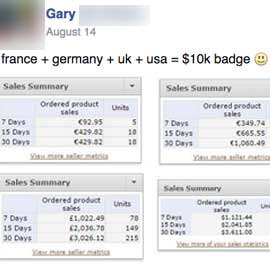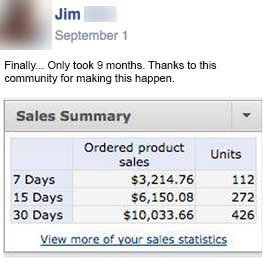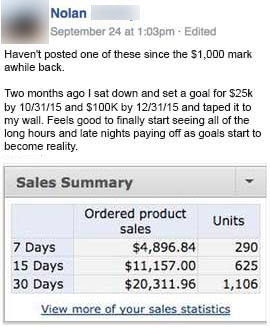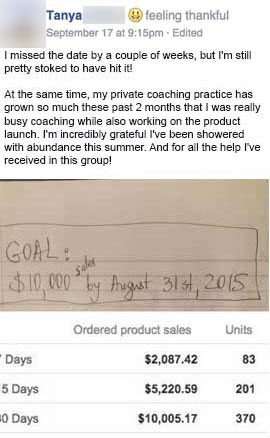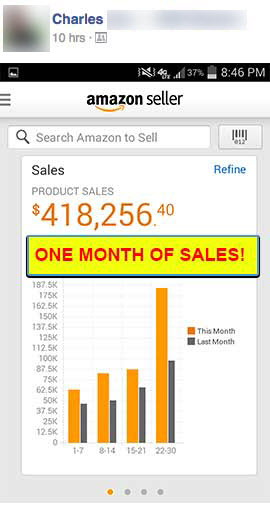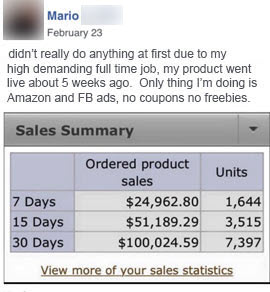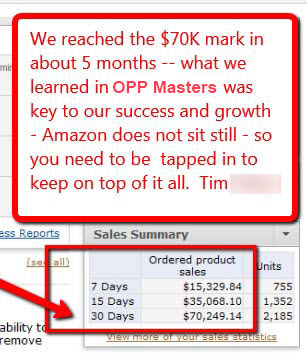 With one product only
7 weeks of pure selling with one product only.
This Business becomes much easier when you apply the 80/20 rule.
To Your Success, See You At The Top!

Leonard
Only 10 days from $5K to $10K
Weird - just sold 45 of my product in the last hour, possibly to someone for some nefarious reason. The good news is that it's put me over the $10K mark.
It took 6 weeks to get from $2K to $5K, and only 10 days from $5K to $10K.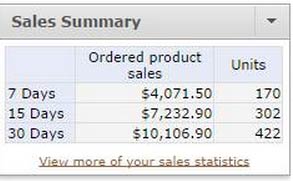 Phil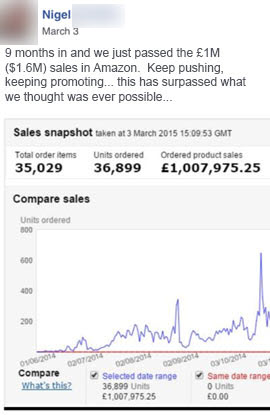 Buy a #1 Listing
Jason Fladlien's "Buy a #1 Listing" Strategy works! Getting my $10K Badge! Keep going fellow OPP Masters!
The knowledge, support, and tools are all here!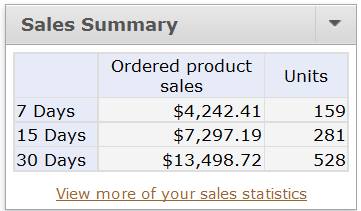 Kristie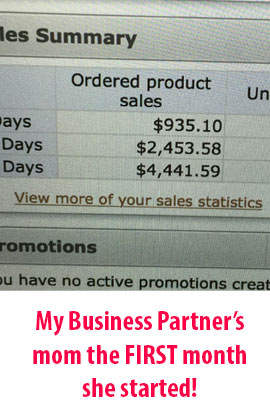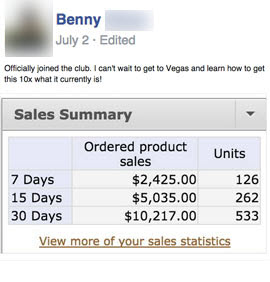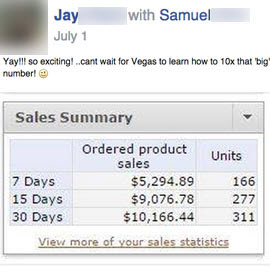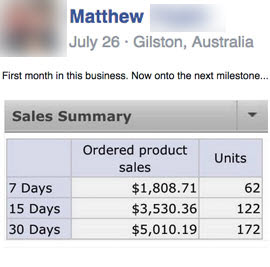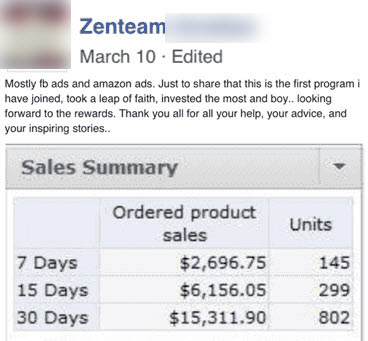 "Only had $250 to start with..."
I'm making between 10-12K per month... I only had $250 to start with, so I'm loving this business model... After graduating from school, I couldn't find a job. And that's how I got into looking for ways to make money.
I can't even remember how I found out. (I started learning about IM through the Warrior Forum).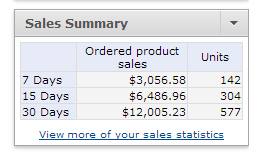 Delia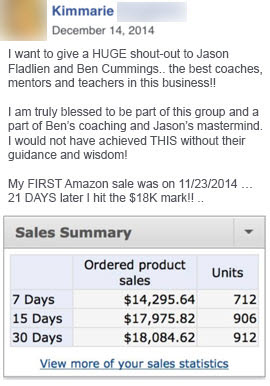 "I am smiling, I am so, so, so happy"
I was painfully aching to re-create my life and a sustainable livelihood for my children and myself to enable our moving forward (ending in poverty was DEFINITELY NOT an option!!!)
Jason, when you read this I might have passed the 10K ... (screen capture below)
I am smiling, I am so, so, so happy & grateful and I am exuberantly filled with appreciation.
THANK YOU * THANK YOU * THANK YOU, Jason & Wil & RCI Team and to all resources, bonuses, gifts made available to me...
LOVE, LIGHT, PEACE & HARMONY to ALL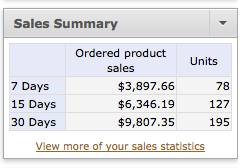 Christine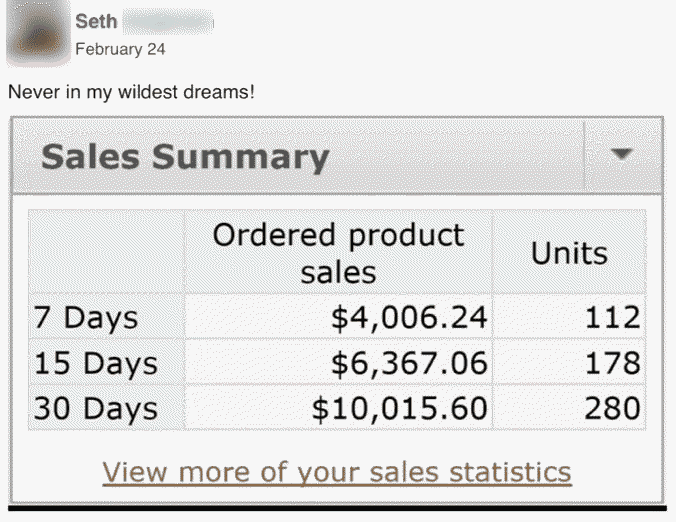 "Our fast success has been because of Jason & Wilson"
I can honestly say that our fast success has been because of Jason & Wilson's Rapid Crush bonuses including the amazing and supportive private Facebook group, additional private one-on-one coaching for product selection and Listing optimization, and special secret software/blueprint to rank my product quickly and get organic traffic and sales from Amazon.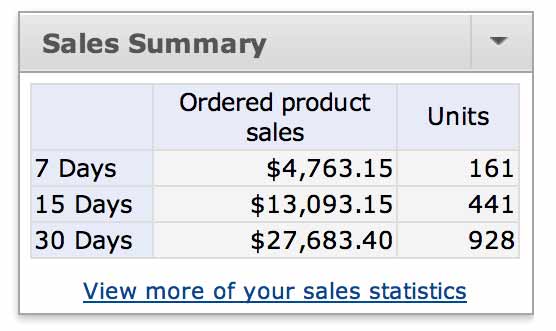 Tess
"Grateful for the help"
The road from 5k to 10k was shorter than I expected - a pleasant surprise!
Grateful for the help & support provided by everyone in this wonderful group.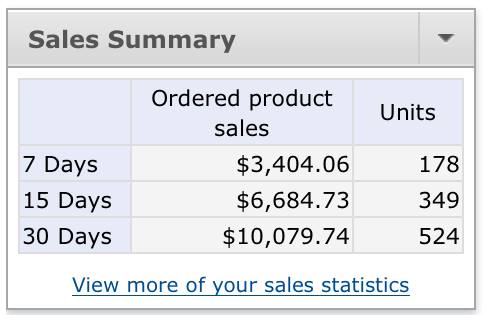 Sandeep
"An hour or two a day... AT THE MOST"
I'm active at my kids' school and will be running for State Rep in my district this fall, so I love that things are going slow and steady without much effort on my part.
I'm probably only putting an hour or two a day into this right now- AT THE MOST.
I feel really fortunate to be a part of this group. You guys have gone above and beyond, and I attribute the bulk of my success to having come in under you guys..
Oh and here's the other interesting bit of info...when I was cranking out product and I hit 25k....my product made it to the bottom of page 1 for 1 afternoon but has kind of just permanently stayed at number 19-22 on page 2..... so I was selling a TON- on PAGE 2!!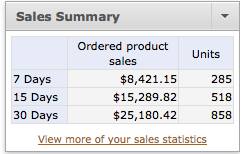 Jennifer
"Follow the Guide to a Tee"
I joined thru Jason and Wilson, we just received our 10K in a month! Thank you to all the Champions here for all your support.
Just follow the Training to a T, and uses the additional tools that Jason and Wilson gives us. My Family truly appreciates this Great Group of Champions!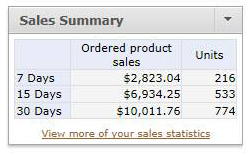 Cliff